Max Your Savings on the Original Glutathione Precursor
Get Your first month of Dr Kellers Original Glutathione Formula for only $19.99 and join the monthly autoship available Internationally for $39.95 US a month after that.  This is an outstanding product at an exceptional price – And it comes with a 30 day- No questions Asked Money Back Guarantee!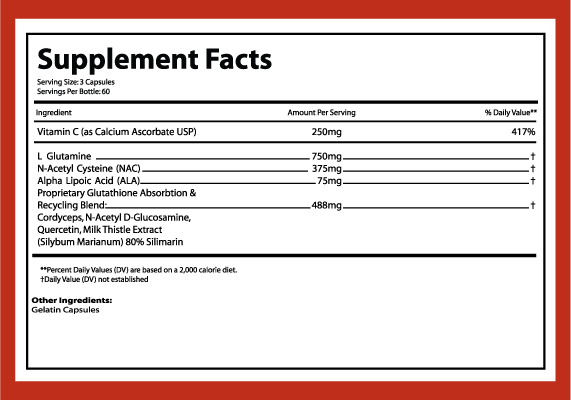 This is the ingredient label for Dr Keller's Original Glutathione formula. The dosage is 3 capsules, twice daily. In addition to 250 mg of Vitamin C- a powerful network antioxidant in it's own right, the fourmula is based on  L Glutamine, N-Acetyl Cysteine (NAC) and Alpha Lipolic Acid (ALA). Dr. Keller also created this proprietary glutathione absorption and recycling blend of ingredients which serve to support your ability to get maximum utilization of the glutathione and to support glutathione's ability to recycle itself and other network antioxidants.
Over 100 million capsules of this exact formula have already been sold and it's now possible to buy this outstanding product anywhere in the world for a one time price of $49.95 for a one month supply or $39.95/month on an autoship program. This pricing – by the way – is in US dollars and the same worldwide.
If this is the product you're looking for, just click on the button below and you'll be taken to the main site where you can place your order.
When you reach the checkout page enter the coupon code RKMD-25838